Streaming Video Production and Bandwidth Requirements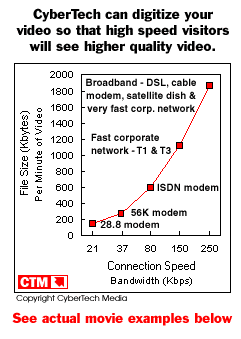 Streaming video quality is dependent in part upon the process of how it's encoded for transmission and the amount of bandwidth required for it to be viewed properly. It's usually standard practice to produce or encode streaming video for delivery over the Internet at a minimum of standard 56K modem speed since many users are still connected at these speeds. To digitize a video so that it will stream at this speed, a high degree of compression is applied to both the video and audio tracks. This process eliminates portions of the audio and video data, which is why most videos you see don't appear or sound as clear as you'd like.
It is advisable, however, to also prepare alternate video clips which are of higher video and audio quality, and which are specifically meant for transmission to visitors who are connecting to your web site at higher speeds. When we encode video for higher speed connections, less compression is used and a smaller amount of audio and video data is lost. As a result, these alternate video files are larger in size and require the faster connection speed to be seen as streaming video.
A user who is connected to the Internet using a high speed cable modem or DSL connection, for example, can watch any streaming video clip which has been encoded for transmission at their connection speed or lower. However, a user who is connected to the Internet using a 56k modem who attempts to view a streaming video clip which has been specifically digitized and encoded for transmission to cable modem users, for example, will get very choppy video which plays for a second or two and then pauses for several seconds until more video data is transferred to their PC.
Solving The Quality Issue
There are already a substantial number of users who connect to the Internet using high speed bandwidth alternatives such as ISDN modems, DSL, dedicated T-1 access, cable modems or through their company's network. The growth of these high-speed connection alternatives has already eclipsed standard 28.8 and 56K modem connections.
If you'd like current and future visitors to your web site who are connected to the Internet at higher speeds to be able to see higher quality video, we can specifically encode additional video clips which are meant for transmission and viewing at alternate speeds. In most cases, you will usually want your basic streaming video clip encoded for transmission to standard 28.8 or 56K modem users. Our charge for encoding alternate higher speed clips is only $25 per video clip.
If you have a need for high resolution video for stand-alone presentations on of your PC or Mac, we can also digitize your video into either AVI, QuickTime or MPEG formats and provide your digital video on CD-ROM.
File Sizes and Bandwidth Requirements
So that you can anticipate how much file storage space you'll require when we encode your videos, here's a chart which details file sizes based on video that has been encoded at different bandwidth speeds. Although these are some of the more popular choices, we can encode your videos using any bandwidth settings you specify.
File Storage Space Required Per Minute Of Streaming Video
Based On Video Encoded At Different Delivery Speeds
Video Encoded At This Connection Speed
Typical User
Bytes Per Minute of Video
21 Kbits/sec.
28.8 modem users
160,000
37 Kbits/sec.
56K modem users
280,000
80 Kbits/sec.
ISDN & slow corporate networks
600,000
100 Kbits/sec.
ISDN & slow corporate networks
750,000
150 Kbits/sec.
Fast corporate networks
1,125,000 (1.125 meg)
250 Kbits/sec.
DSL, cable modem, satellite dish, and very fast corporate networks
1,875,000 (1.875 meg)
300 Kbits/sec.
DSL, cable modem, satellite dish, and very fast corporate networks
2,250,000 (2.25 meg)
500 Kbits/sec.
Fast cable modem and very fast corporate networks
3,750,000 (3.75 meg)
Solving The Format Issue
Trying to choose whether you should have your video encoded in Real Video, Windows Media (formerly Microsoft NetShow), Flash, or QuickTime format can sometimes be a hard decision to make. Often times your decision will be based on your personal preferences. From a numbers standpoint, both Real Video and Windows Media claim to have over 200 million of their viewer plug-ins already in distribution and use. Additionally, well over 10,000 people are downloading each of these streaming video plug-ins each day. To solve their format decision dilemma, some web sites take the approach of having us digitize their videos in multiple formats. By using this approach, a larger number of visitors to your site will already be prepared to watch your video without having to download a plug-in first. Our charge for encoding your streaming video in alternate formats is only $40 per video clip.
Streaming Video Over Corporate Intranets
Streaming video which is being prepared for transmission specifically over a corporate Intranet can actually be encoded at even higher speeds as long as you're not already suffering from internal bandwidth constraints. As is the case with transmission over the Internet, the higher the speed we encode at, the higher the audio and video quality. If bandwidth is a problem on your corporate Intranet, you can instruct us to encode your streaming video at a lower speed such as 56K or ISDN speed.
Comparing The Difference
Here is an actual illustration of the differences between how streaming video looks and sounds when it is produced specifically for transmission at different speeds. Do not attempt to play a streaming video clip which has been encoded for transmission at a higher speed than you're connected at. If you don't have a high speed connection, take our word that the higher speed clips look and sound better. You may also want to review our discussion and comparison tables of using individually encoded files for different speeds versus Surestream or adaptive rate streaming.
Sample video #5 of 7 at low bit-rate delivery speeds
Watch broadband versions of actual clips we've encoded
for customers on our sample videos page.
Your connection speed
Video
format
Get player
if needed
28.8
modem
users
56K
modem
users
ISDN
or slow
network
Fast
network
or better
21
Kbits/sec
37
Kbits/sec
80
Kbits/sec
150
Kbits/sec
Our samples were encoded at these rates
Play
Play
Play
Play
Get Real Video
Player
Play
Play
Play
Play
Get Windows Media
Player
Play
Play
Play
Play
Get QuickTime
Player
You can also watch broadband versions of actual clips we've
encoded for customers on our sample videos page.

Compare the quality of our samples with our competitors encoded at exactly the same speed when shopping for a company to encode your video.

We're the Internet's most popular provider of streaming video encoding services. Take a look at our customer list to learn more.
Beware of Comparing Apples To Oranges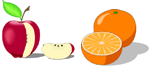 The single most important issue in selecting someone to encode your video clips is how good they'll look to the visitors of your web site. Everyone in this industry uses different hardware, software and a different encoding process. Since encoding great quality streaming video is an art - not a science, you need to be extremely careful when comparing video quality. As you shop around, don't assume that when a competitor's example video clips are labeled with words such as low, medium and high speed or dial-up, ISDN and broadband, that it means the clips were encoded at 37, 100 & 300 Kbits/second respectively. Although these encoding speeds appear to be the industry's accepted norms, we've discovered many instances where competitors have employed a very common trick and have encoded their dial-up or low-speed examples at 95 Kbits/sec, their ISDN or medium speed examples at 280 Kbits/sec., and their broadband or high speed examples at 770 Kbits/sec. Why is this an issue? These encoding speeds are approximately 250% greater than the connection speeds of the users who the video examples are meant for. Moreover, this is a deceptive presentation tactic which prevents a prospective buyer who is connected to the Net via a high speed network from making an accurate quality comparison. Always remember that whenever a video clip is encoded at a higher bit rate per second, the quality improves dramatically. If you're unable to determine the encoding speed of a video example you're viewing, you may end up comparing apples to oranges. Some people call this deceptive tactic bait & switch, others call it smoke and mirrors. We simply, but very strongly caution - buyer beware!!! For your convenience in making an accurate and informed comparison, all of our video examples are specifically labeled by their encoding and delivery speeds.
To add streaming video to your web site or corporate Intranet, simply send us your DVD, Mini-DV, Umatic, Beta, Hi-8, DVD, VHS or S-VHS video clips using our mail-in video submission form. We provide nationwide video encoding services, so please call us toll free at 800-707-8511 or 630-690-7611. You may also e-mail us at media@cybertechmedia.com if you have any questions.
Please note that we have recently spun off this section of our site to a new stand-alone URL at:

More Information About Streaming Video
For additional information and actual demonstrations of streaming video, don't forget to visit these pages.
When you're ready to visit with us about including streaming video presentations on your web site, please call us at 630-690-7611 or E-mail us at media@cybertechmedia.com.

We also do video conversions for web developers.
LinkExchange Member