Association Approved Streaming Video For Websites
Your association, organization or group has contracted with us to provide you with our production services so that you can enjoy the benefits of having streaming video presentations on your website. As a member of a participating group, you will receive a 10% discount from our normal fee structure. If you're not a member of a participating association, we invite you to learn more about how you can add streaming to your website, however, you should visit our regular services page for complete details and pricing information.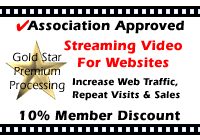 Streaming Video For Under $100
Regardless of your business, anyone can gain immediate benefits by adding streaming video to their website. No additional hardware or software is required, and streaming video works on all existing web servers.
By including streaming video on your website, you can:
Attract more visitors to your website
Achieve higher repeat visits
Generate more sales
We invite you to learn more about streaming video and view examples of streaming video on our own pages by following the links found near the bottom of this page.
Fast - Easy - Affordable
When you choose CyberTech to prepare your streaming video, you'll be guaranteed to gain all of the benefits of streaming video without any of the headaches or heavy expense. We make adding streaming video to your website far easier than you ever thought possible.
Fast service - All video conversions are performed within 48 hours.
Easy to understand - You provide us with your presentation on a Beta, VHS or S-VHS video tape and we do all the rest. We provide you with all of the HTML code you'll need to paste your videos right into your web pages so that they're ready to play immediately. Because we provide you with everything you'll need, adding streaming video to your website is as easy as pasting a new GIF or JPEG into your pages. You won't need to learn anything about streaming video at all.
Affordable - We believe our $89 association rate for this full service approach is the most competitive in the industry, and certainly far less expensive than the $10,000 in hardware and software you'd need to prepare streaming video on your own.
Choice of formats - Streaming video encoded in your choice of Windows Media a.k.a. Microsoft NetShow, Real Video, or Vivo format.
To have streaming on your website within 48 hours, simply send us your video clips using this special mail-in submission form for association members only. If you are not a member of a participating association or group, please submit your video to us using our regular mail-in submission form. If you have any questions or would like to discuss streaming video further, please call us at 630-690-7611 or E-mail us at media@cybertechmedia.com.
Attention Association Administrators
If you're committed to the success of your members, and are interested in providing our services to your members at a discount, please call us at 630-690-7611 or E-mail us at media@cybertechmedia.com.